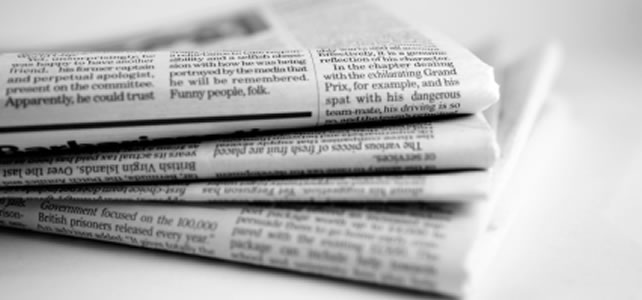 The press in Cyprus is a free and independent institution and is not subject to intervention or control by any state authority.
The freedom of the press is enshrined in the Cyprus Republic's constitution which stipulates: «Every person has the right to freedom of speech and expression in any form. This right includes freedom to hold opinions and receive and impart information and ideas without interference by any public authority and regardless of frontiers.»
The proliferation of newspapers in Cyprus – both Cypriot and foreign – reflecting a wide range of opinions and ideologies, attests to the plurality of views prevailing in the country and the freedom they enjoy. Criticism of persons in office, public figures, state institutions and government policies, and the freedom to expose malpractices where these occur, are accepted as a healthy manifestation of democracy.
Source: www.cyprus.gov.cy
Wide Tv Channels
PIK www.cybc.com.cyCyBCONE the Corporation's main information channel, has a reputation as the reliable Cypriot channel which places emphasis on News Bulletins in Greek and Turkish, and on programmes covering current affairs, political, financial, social, cultural and sports news. CyBCTWO the Corporation's main entertainment channel, offers viewers a second choice.Address: P.O.Box 24824, 1397 Nicosia, Tel.: (00357) 22422231, (00357) 22862000, Fax: (00357) 22314050
ANT-1 www.antenna.grTV Cyprus (pronounced Antenna) is a free to air terrestrial TV channel established in 1993. The channel is partly owned by ANT1 Greece. It is a general entertainment channel screening international, Greek and some locally produced programs.Address: 5 Megaron Str., 2311 Strovolos, P.O.Box: 20923, 1655 Nicosia, Tel.: (00357) 22200200, Fax: (00357) 22200210
Sigma TV www.sigmatv.comis a commercial network in Cyprus that first hit the air on April 3, 1995. It is a private service and is currently the top-rated channel in Cyprus. Sigma TV is geared at a younger audience, with the focus on the 18-45 age group. It broadcasts a mix of original programmes as well as popular foreign programming.Address: P.O. Box: 21836, 1513 Nicosia, 31 Archangelou Str., 2054 Strovolos, DIAS Building, Tel.: (00357) 22580100, Fax: (00357) 22580252
CNCPlusTV is the island's sixth free-to-air television channel launched on July 28, 2006. It broadcasts on channel 45. Due to a cooperation deal with Greek channel Alter , CNC Plus TV line-up also includes several programs from Alter Channel.Address: 2 Lemesou Avenue, Aluminium Tower, 1st fl., 2003 Aglantzia, Tel.: (00357) 22600600, Fax: (00357) 22600512
Lumiere TV www.lumieretv.com(LTV) is a premium television service, that broadcasts blockbuster movies and hit series. It is owned by LTV Group Ltd. and it launched in June 1993.Address 1 Diogenous Str., Block C, 4th floor, 2404 Nicosia, P.O. Box 25614, 1311 Nicosia, Tel.: (00357) 22357272, Fax: (00357) 22354622, (00357) 22354638
Middle East Television www.lumieretv.com (also known as "METV" ) is a Christian -based satellite television broadcasting network located in Limassol. Programming on METV includes a mixture of Christian programming, plus non-religious entertainment programs.
Mega channel, part of Mega channel hellasAddress: P.O.Box: 27400, 1644 Nicosia, 20, Agios Avgoustinos Str., Archangelos, 2054 Strovolos, Tel.: (00357) 22477777, Fax: (00357) 22355138, (00357) 22477737
Local Tv Channels
Fred T.V. (Nicosia)
Extra T.V. (Limassol)
Capital T.V. (Limassol)
VOX TV (Larnaca)
Pafos T.V. (Pafos)
Omega T.V. (Pafos)
Wide Radio station
CyBC www.cybc.com.cy Address: P.O.Box 24824, 1397 Nicosia, Tel.: (00357) 22422231, Fax: (00357) 22314050
Radio Super FM www.superfmradio.comAddress: 4 Annis Komninis Str., Solea Court, 6th floor, flat 602, 1060 Nicosia, P.O.Box 22795, 1524 Nicosia, Tel.: (00357) 22460150, Fax: (00357) 22769516
Kanali Exi www.kanali6.comAddress: 69 Irinis Str., 3041 Limassol, P.O.Box 54845, 3728 Limassol, Tel.: (00357) 25820500, Fax: (00357) 25820550/1
Energy 107,6 FM www.energy1076.com Address: 23 Ayias Paraskevis Str., "Karantokis" Bldg., flat 12, 2002 Nicosia, P.O.Box 22108, 1518 Nicosia, Tel.: (00357) 22466966, Fax: (00357) 22379944
Radio Astra www.astra.com.cyAddress: 145 Athalassas Avenue, Strovolos, 2024 Nicosia, Tel.: (00357) 22368888, Fax: (00357) 22319262, (00357) 22518832, (00357) 22319069
Radio Athina www.radioathina.comAddress: Athina8 Neas Engomis, Engomis' Industrial Area, 2409 Nicosia, Tel.: (00357) 22356920, (00357) 77771007, Fax: (00357) 22356918
Radio Proto www.radioproto.com.cyAddress: P.O.Box: 21836, 1513 Nicosia, 31 Archangelos Str., Strovolos, 2054 Nicosia, Tel.: (00357) 22580400, (00357) 77778993, Fax: (00357) 22580429
LogosAddress: Church of Cyprus, P.O.Box 27400, 1644 Nicosia, 20 Agios Avgoustinos Str., Archangelos, 2054 Strovolos, Tel.: (00357) 22477965, Fax: (00357) 22352349
Radio Sfaira www.radiosfera.com.cyAddress: 1 Diogenous, Block B, 1st fl., 2404 Engomi, P.O.Box 21094, 1501 Nicosia, Tel.: (00357) 22744968, Fax: (00357) 22744068
Radio Ant1 FMAddress: 5 Megaron Str., 2311 Strovolos, P.O.Box 20923, 1655 Nicosia, Tel.: (00357) 22200200, Fax: (00357) 22200018
Wide Newspapers